SELF-HEALING BOOKS AND JOURNAL
Heal from Trauma, Find Inner Peace, and Develop Your Potential for Thriving and Service
Self-care opens a dialogue with the most precious parts of who we are inside, making space for transformation, empowerment, and lives of purpose and meaning. It all starts here. 
Inside: A Guide to Resources Within takes you through my signature process of sacred self-care and gives you the tools to sustain that practice. Give yourself these gifts. You are worthy. You are the inheritor of a life worth living, right here, right now—claim your life as your own forevermore.
It's time to listen to the call of your inner voice beckoning you inward and onward in your journey toward healing. Trust that you are on the path you need to be on, even if that path feels like the rockiest and steepest path of all. The rewards of healing, peace, and transformation will be worth it.
Are you ready to take the next step?
My book Inside: A Guide to Resources Within and the companion journal, outline 40 practices in a step-by-step transformational process. I created it to help you take the next step, and the next, and the next…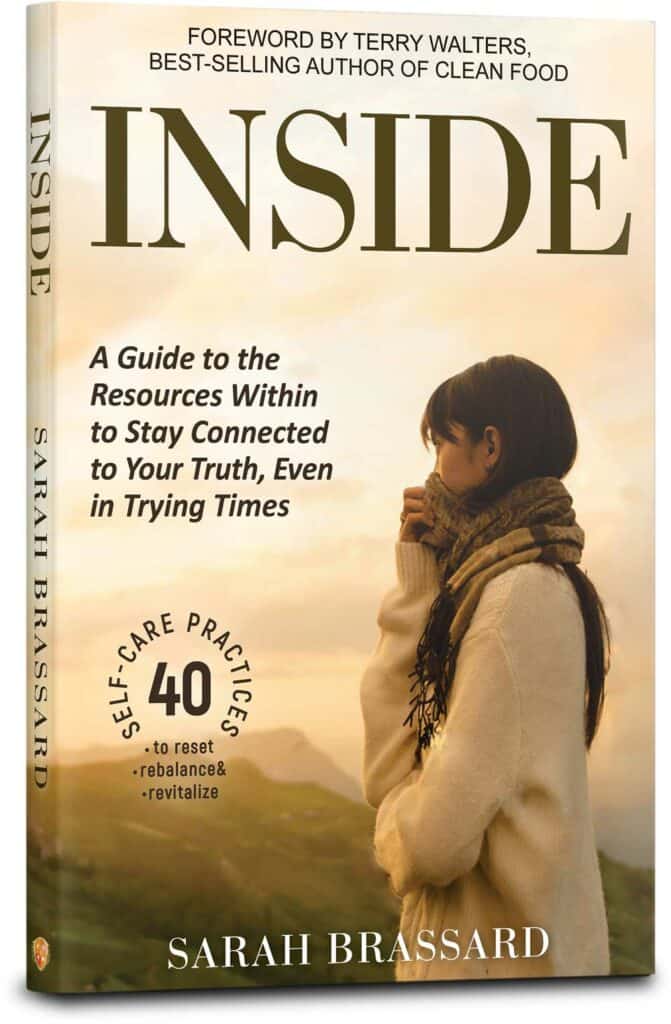 "Sarah has created a manual for healing body, mind, heart and spirit that is guaranteed to inspire and change any reader's life for the better. Wise, accessible, heartfelt, useful, and humble…this is a book and guide I will return to often."
How Heal From Trauma, Find Inner Peace, and Discover the Means to Thrive through a Process of Spiritual Craftmanship
A Guide and Journal on the Art of Self-Healing and Actualization
Are you ready to discover the wholeness, the worthiness, the peace that is inside you already? To build a practice of self-love, awareness, and connection that can not only heal you but help bring forth a life of authenticity, fulfillment, and joy in the process of being?
This book and companion journal outlines a process of healing, discovery, and growth you can follow to heal and connect with yourself. Discover 40 engaging physical, emotional and spiritual practices and a process by which to develop your own healing and growth practice.
This book is not rooted in an assumption of lack or need. While many self-help and personal development books will fan the flames of a sense of emptiness that can only be filled from outside, Inside is rooted in a radically different perspective: you already have what you need inside you.
While there may be suffering and pain—wherever you are right now is exactly where you are supposed to be. It takes all sorts of circumstances to motivate us to look at life in a fresh and promising new way. So rather than judge the conditions of your life, bring awareness to them. Recognize the magnitude of your feelings and do your best to not get stuck there. As we will learn, the only way through discomfort and suffering is straight through it. Cherish the fact that you are feeling anything—you are alive!—even if those feelings are bringing you tremendous discomfort. It is better than the alternative of not feeling at all and it is the first step in your path to healing.
This book will help you take one at a time the steps on this journey of healing, being, and becoming, no matter small they may be. It will help you undertake and sustain of question through body, mind, and ultimately spirit.
This book's intention is not to tell you which spiritual quest is best suited for you but rather to help you build a base, a starting point, and ultimately a foundation strong enough to take on the spiritual journey of your dreams. You are the true teacher of your life, and each step you take on this self-care journey will bring you closer to your truth. Grow closer to yourself, believe in your ability to change, and watch the arms of your life warmly open to welcome you home once again.
The Roots of My Book and Journal
I experienced the trauma of losing both parents at a young age followed by many years of trying to find my footing in a world that seemed out of control. After decades of cycling through suffering and struggle, I began to find solace through my extensive training and practice in massage therapy, which very naturally led me to discover Kundalini yoga, which I consider a sort of self-massage for body, mind, and spirit. This was a life-changing opportunity that taught me discipline and devotion to my self-healing and intraerpersonal discovery, which then led me to Interfaith Seminary andI eventually became a KRI Kundalini Yoga instructor and an Interfaith Minister. 
My story took me on many winding paths, through ups and downs, into inner depths and up to peaks of joy and aliveness. I found many things that helped me heal my wounds and cultivate my spirit and many that didn't live up to their promise. 
"It wasn't until I addressed the whole body, the whole mind, and the whole emotional system that I started seeing life-sustaining results."
– Sarah Brassard
In my book and journal, I have integrated what has worked to help me along my journey, creating a signature process of sacred self-care that I facilitate with private clients, groups, and corporations around the world.
This book is many things: a guide on healing from trauma, a manual on how to find inner peace, a beacon showing how to get over the past and embrace a better now. It is a personal development book for women (and men) ready to overcome their limits, step into their truth, and embrace a life of empowerment, joy, and purpose.
"With trauma as her first teacher and a lifetime's worth of seeking and learning under her belt, Sarah Brassard is the best kind of guide and healer: one who has transformed her own profound suffering into a gift for all who are lost, in pain, and yearning for change. This wise, generous book is both friend and manual, a tried and true roadmap to health and well-being. Sarah doesn't just encourage readers to walk the path, she holds out her hand and welcomes each fellow traveler to join her on the transformative journey from fear to love, from darkness to light. "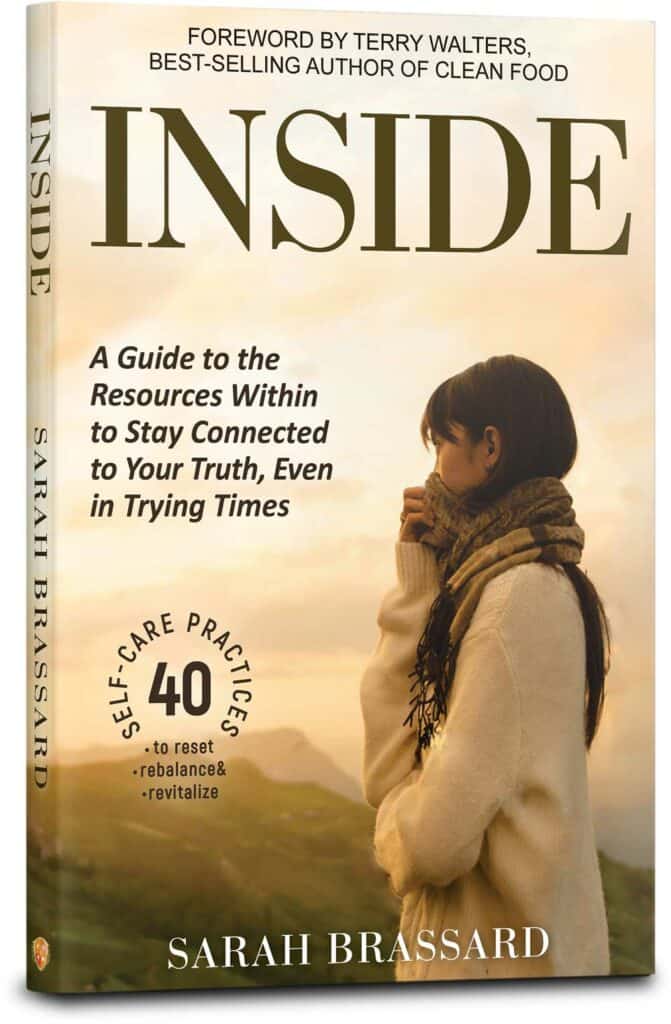 Inside: A Guide to Resources Within
Realize health and wholeness by shifting your life from focusing on outer control to one of inner focus and sacred self-care.
Since you are here, I'm guessing you've reached a point in life where you're tired of striving, guessing, manipulating, and trying to control outcomes.
You've cared for others. You've experienced trauma. And you've "done the work" (with mixed results) to "get more" out of life. Now, you're ready to lay down your efforts of trying to figure it all out and, instead, step into a place of conscious surrender,radical trust, and natural grace.
Inside will take you through my signature self-care process and give you the tools to sustain that practice—not just to heal, but to empower and transform you. Because you've earned it—though the truth is, you didn't have to earn it. You were always worth it. Your life is worth living, deeply and fully, without apology.
Written with an unshaken authority, keen wit, and deep empathy, Inside serves as a roadmap to lead you back home to yourself.
"In this invaluable addition to the library of spiritual guides, Sarah Brassard offers one of the most important lessons in life: the practice of self-care. Whether it's deep childhood trauma or free-floating anxiety that accounts for our struggle, in these pages Brassard gives us the tools to recognize life for what it is meant to be — whole, peaceful and, above all, brimming with happiness."
Inside: A Guide to Resources Within Companion Journal
The practices in this companion journal will help you receive, notice, and stay open to the many lessons pain and discomfort offer you when you cultivate the strength to listen.
That is the goal of self-care: to fortify your body, mind, heart, and spirit to meet the ever-changing experiences life delivers you.
The practices in this journal have been hand-picked to deepen your self-study and access your inner reserves, opening you to self-awareness. This is the key to staying on a healing path—to tune in to your inner being, to continually learn about what makes you uniquely individual, and from that attunement, grow into the most beautiful expression of who you are.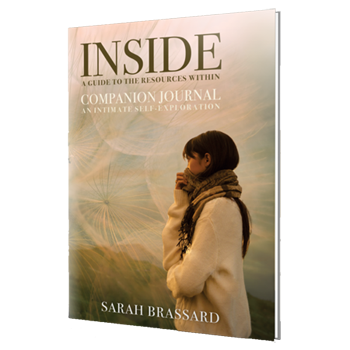 "In Inside, Sarah Brassard gently guides readers toward creating greater balance and self-awareness in their lives. Filled with easy-to-follow, step-by-step exercises designed to help anyone at any level build a lasting self-care practice, Inside reminds us of the counterintuitive fact that to achieve and live the lives we dream of, it's essential we begin with ourselves."
WHAT PEOPLE ARE SAYING ABOUT THE BOOK AND JOURNAL
I am humbled that my books about self-love and healing trauma, overcoming anxiety, and embracing personal empowerment have touched so many lives. Here is a selection of kind words from readers whose lives have been touched by this work.
Tap your talent. Experience breakthroughs on your toughest blockers. Learn to love who you are AND who you are becoming. A 9 month personal growth program that takes you and a small group of peers through a proven process of self-discovery and transformation.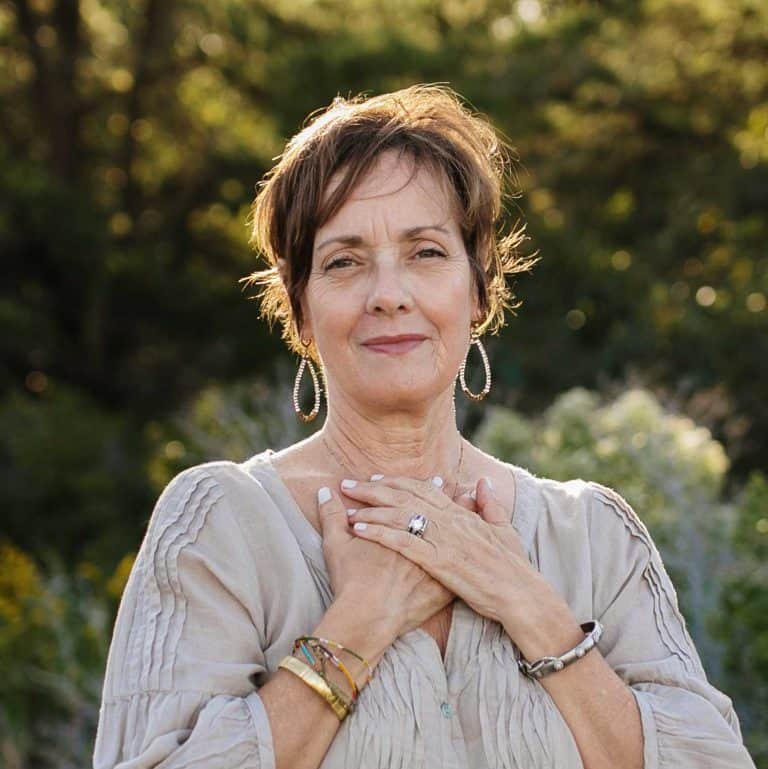 As a life coach with decades of experience, I find most are best helped through my group program. Still, there are those who might want private coaching. Or simply want to go deeper after completing the main program. I offer private coaching in these select cases.